Introduction
CiMaas develops immunotherapy for cancer by optimally engaging the immune system.
The national campaign - to the end of June 2019 - airs radiospots and runs advertisements in several national newspapers to draw attention to the collaboration between the University and Brightlands in developing solutions for important societal issues. CiMaas regenerates the immune system to fight cancer.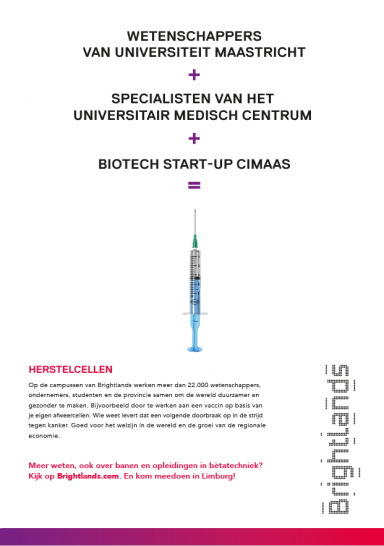 Upon a recent application and discussion with EMA, Cimaas received the classification for its' dendritic cell vaccine. EMA/CAT considers that the WT1-DC-Xcite-L1 falls within the definitions of a somatic cell therapy medicinal product and a gene therapy medicinal product and based on that is considered as gene therapy medicinal product as provided in Article 2(5) of Regulation (EC) No 1394/2007.
On June 6 2019, Kiadis Pharma (Amsterdam, The Netherlands) acquired Cytosen (USA). CiMaas had a long-standing collaboration with Cytosen to realize production of large numbers of Natural Killer Cells. The acquisition results in that CiMaas will continue the development of the Natural Killer Cell therapy now with Kiadis.